Nature of Shame:
Unwatched Severin BD, "Folk Horror" Essential
Hooptober '21 Challenge Checklist:
Decade: 1970's
Folk Horror
Country: UK
---
THE BLOOD ON SATAN'S CLAW ELEVATOR PITCH
A farmer overturns a mysterious skull, which sets off mass demonic possession among the village youth, aka raging puberty + ritual sacrifice.
IDLE THE BLOOD ON SATAN'S CLAW MUSINGS
Folk horror became a buzzy subgenre after Robert Eggers' The Witch (2015) and Ari Aster's Midsommar (2019) shocked and horrified audiences with their relentless sense of self-importance and eerie and effective, long-game subversive terror. If that statement confounds you and blurs your understanding of where I stand on these films, I've done my job. Goodnight. Tip with your waiter. He doesn't want to be here because he could be collecting a fat unemployment check and finally finishing up Red Dead Redemption 2 on his couch.
Having not heard the term folk horror pop up in my cinematic travels before The Witch, I struck out on my own in search of its nexus. Based on The Witch's singularity (in a contemporary sense), the concept seemed rather self-explanatory, but seeming and knowing are two wildly different states of being. The former works best when buzzing on two pints, the latter for writing a bl-g post about one of the Unholy Trinity, the three British films identified by writer and filmmaker Adam Scovell as the origins of the folk horror subgenre in response to a 2003 BBC interview with The Blood on Satan's Claw director Piers Haggard. This interview represents the first known usage of the term folk horror. Mark Gatiss, in the 2010 BBC4 series A History of Horror, furthered the usage and yada yada yada… now it's a thing, almost 40 years after the release of the final film in the Unholy Trinity. They are Witchfinder General (1968), The Blood on Satan's Claw (1971) and The Wicker Man (1973).
If I wanted to do something useful with this space, I'd have watched all three just now, but that's not what we're doing here. I've seen the breads. It was time to watch the bologna in this here folk horror sandwich.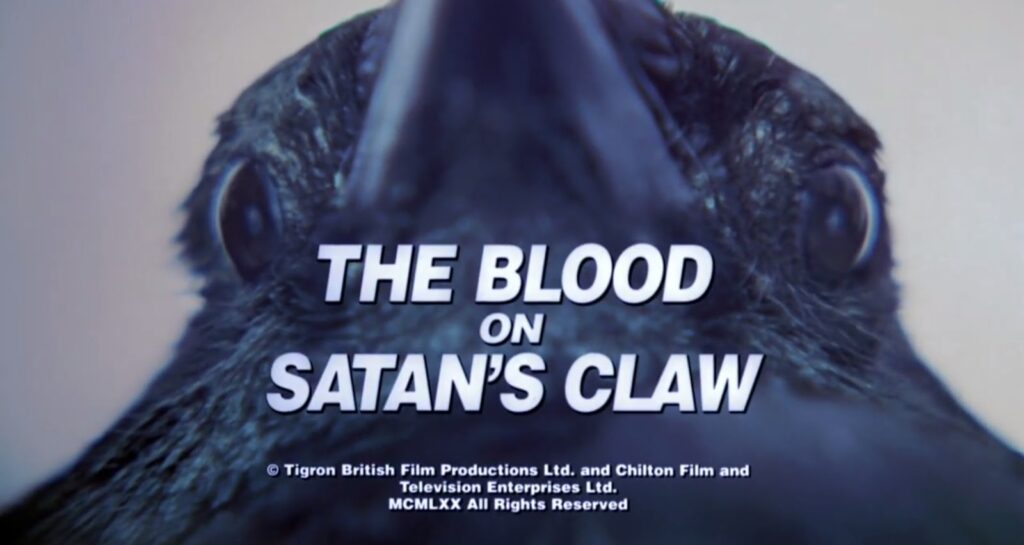 THE BLOOD ON SATAN'S CLAW REVIEW
If you look at Piers Haggard's film as the Blood and Black Lace or The Bird with the Crystal Plumage of the subgenre, the tenets of folk horror fall into place. Like the giallo, the folk horror film relies on a narrow bandwidth of available visual tropes. Rural, pre-industrial landscapes (The Wicker Man and Midsommar artificially create this setting). Horror elements introduced via the occult, witchcraft, loopholes in religious doctrine. These limited elements work in service of a mood — isolation.
The remote landscape provides the perfect playground for a moral and spiritual corruption brought about by external supernatural influences such as demonic spirits and witches. Sometimes even the big bad Satan himself. The violence contained within often stems from a darker, buried human past, one that's permanently entangled with these spirits and will continue to erupt because of mankind's tenuous grasp on morality. There are startling comparisons to be made with the recurring themes in folk horror and the ebb and flow of political movements like fascism standing in for demonic possession, but that's a tangent I'm simply not prepared to entertain in this space. I've placed upon you the burden of deeper thought and that's more than enough for your average Tuesday.
On folk horror, writer and illustrator Andy Paciorek mused: "One may as well attempt to build a box the exact shape of mist; for like the mist, folk horror is atmospheric and sinuous. It can creep from and into different territories yet leave no universal defining mark of its exact form."
The horror found within the genre tends arise from grotesque visions, but bloodshed occurs when humans turn on humans in service of dark spiritual forces. In one particularly brutal scene in The Blood on Satan's Claw, the town teenagers lure one of their more innocent peers into a rape and ritual sacrifice to summon the dark lord. The unsettling power arises because one day earlier these were all average teens, joking about sex and idling in the fields. They played a game with Satan's claws and now the innocents have become agents of pure, monstrous evil. The rape relished. The murder as natural and easy as killing ten minutes in Snapchat.
We, the viewer, feel remotely complicit. Due to the lack of sensationalism and stylized cinematics in folk horror, the dread and low-lying terror provides a greater unsettle to overt horror imagery ratio. The rape/sacrifice scene made me uneasy in ways that gore and violence in other supposedly shocking horror movies has not.
Like my immediate response to Eggers' The Witch, I wanted to escape immediately, but chew on deliberately. Pardon my ghastly adverb abuse, but I've deemed them necessary. These are fascinating movies about human ties to the spiritual and our dormant, innate capacity for evil. They do not provide me with the same visceral and preternatural pleasures of the giallo movement, to put a capper on that analogy. Perhaps folk horror burrows too deeply, too coldly, whereas the superficial pleasures of garish colors, chiaroscuro, and black-gloved killers allows distance and escape.
FINAL THOUGHTS
I can't be the only one that's interested in what happens after the events featured in The Blood on Satan's Claw. Twenty teenagers just kidnapped, raped and murdered a girl in addition to summoning the devil. Sure, this one had a deus ex witchfinder kind of finale (hooray!) that predicts evil's certain return (booo), but there has to be some kind of ramifications beyond revoking idling in Satanic fields privileges.
Unsettling, fascinating, and defining film in the definition of the folk horror genre, but that doesn't mean I'm ready for more.
I watched The Blood on Satan's Claw on an OOP Severin Blu-ray. It is still widely available on a UK Blu-ray for you region-free hounds.
2021 @CinemaShame / #Hooptober Progress
#1. Gamera, the Giant Monster (1965) / #2. The Blood on Satan's Claw (1971)
James David Patrick currently writes for DVD Netflix. He's written just about everything at some point or another. Add whatever this is to that list. Follow his blog at www.thirtyhertzrumble.com and find him on Twitter, Instagram, and Facebook.