Prior Hooptober/31 Days of Horror Lists on Letterboxd.com: 2015 / 2016 / 2017 / 2018 / 2019
After taking a COVID-break last year (8yo being remote-schooled next to me would have received a very interesting brand of education based on some Jean Rollin I'd planned to watch), I'm refreshed and ready to Hoop it up in 2021. Not familiar with Hooptober? Here's a primer. The Cinemonster started Hooptober on Letterboxd.com as a way for horror fans to come together during this holiest time of year. The rules of engagement? Watch 31+ horror movies during the month of October (starting September 15th because we're adults and we can do what we want) and write a review on Letterboxd.com for each and every flick. I'll be documenting my progress here and on Letterboxd. More words here. Short bits there. Each year The Cinemonster comes up with some specific parameters to direct viewing and highlight filmmakers and subgenres.
I always attempt to watch as many new-to-me movies as possible. Cinema Shame demands it. I must broaden my horizons… even if they're the more unsavory horizons. It makes me a better and more respectable human to watch as much Eurotrash as possible. I will assault innocent bystanders with conversations about Jess Franco and Sergio Martino. Inevitably, some old favorites sneak into the mix because goddammit, yes, I want to watch An American Werewolf in London again, okay?!?
CINEMONSTER'S 2021 HOOPTOBER 8 GUIDELINES:
6 countries
8 decades
2 folk horror
4 films from 1981
2 films from your birth year
2 haunted house films
The worst Part 2 that you haven't seen and can access. (I realize that this will take a little work)
1 film set in the woods
1 Kaiju or Kong film (not the new K v. G)
2 Hammer films
3 films with a person of color as director or lead. (excluding Asian)
3 Asian horror films.
And 1 Tobe Hooper Films (There must ALWAYS be a Hooper film)
***FOR THOSE THAT LIKE TO DO EXTRA WORK: WATCH JD's Revenge, The Skull and The Scooby Doo Project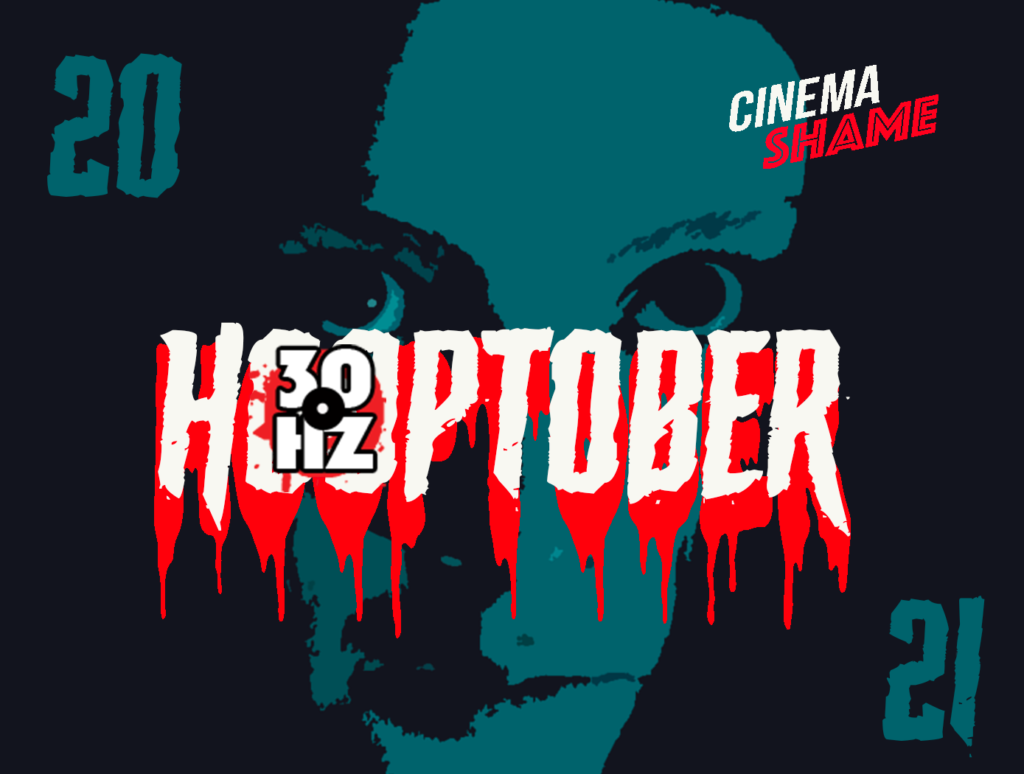 30Hz/CINEMA SHAME 31 DAYS OF HORROR 2021 ROSTER
Prior #31DaysOfHorror Shame-a-thons: 2013 | 2014 | 2015 Part 1 | 2015 Part 2 | 2016 | 2017 | 2018 | 2019
*rewatch
American Werewolf in London (1981)*
Attack of the Killer Tomatoes (1978)
The Black Cat (1981)
The Blood on Satan's Claw (1971)
Bones (2001)
The Boogens (1981)
Cat People (1942)*
The Curse of Frankenstein (1957)*
The Curse of the Cat People (1944)
Dark Night of the Scarecrow (1981)
The Fly II (1989)
Gamera, the Giant Monster (1965)*
Ganja & Hess (1973)
Ghost Story (1981)
The Girl With All The Gifts (2016)
The Howling (1981)*
The Howling II (1985)
Invaders from Mars (1986)
Lake of the Dead (1958)
The Legend of the 7 Golden Vampires (1974)
Murder Obsession (1981)
Mystics in Bali (1981)
The Old Dark House (1932)*
Patrick (1978)
The Pit (1981)
Suddenly in the Dark (1981)
Tales from the Crypt: Demon Night (1995)*
Thirst (2009)
Ugetsu (1953)
Venom (1981)
Viy (1967)
Wolfen (1981)
MY UP-TO-DATE HOOPTOBER ROSTER ON LETTERBOXD
What's your list? What's your plan for horror movie watching this year? If you're keeping a list or participating in the Hooptober challenge, I'll link to your Letterboxd list or blog in the header for my posts. Just leave a note with a link in these comments. Together we shall overcome… or we'll be the losers knocked off in the first act to establish the killer's indomitable menace. It's more comforting to know you're not doing this alone.