Just when I thought I wasn't enamored with the music of 2018… I compiled my Best Songs of 2018 list and realized, well… that I wasn't that enamored with the music of 2018. I fell at the feet of a few select albums and those albums consumed my year. My love for Arctic Monkey's Tranquility Base Hotel & Casino forced me to re-evaluate the entire Arctic Monkey's catalog. (It's better than I remembered!) Of course I had a new CHVRCHES record, so I even had to grapple with my steadily increasing CHVRCHES fanboy tendencies (I'm incorrigible.)
Overall, however, 2018 was another year filled with highs and lows, just like any other. Even though popular culture continues to tout rap's new directions, I can only shrug because what the hell is that even? What happened to beats, rhymes & life? You guys aren't even trying to rhyme and god forbid we introduce a decent beat. Indie rock has fallen back into an interminable mid-tempo cruising speed, proper rock & roll failed to leave a mark, and I even liked not one — but two country albums. (What?)
At the outset I made an effort to digest a wider variety of music styles. As a result I spent more time with soul, blues and modern jazz. Genres in which I tend to live in the past. Each year I tend to discover many great jazz records… made in the 1950's. My list reflects those efforts in fits and spurts and I even found a few terrific jazz records made after 1960. (The hell you say.)
And now for my yearly disclaimer. I'm just one human listening to music and these selections reflect my year in music. I share my picks because maybe you'll find some new favorites for yourself. I also carry on because my friend Michael Smith at bsidesnarrative.com have been exchanging lists every year since 2007.
Music sustains us through the tough times and improves the good ones. It gives us hope for the future and convinces us we're more deep and soulful than we really are. Music is a constantly renewing life blood. Never stop listening to new music.
 The minute you stop listening to new music is the moment you become old.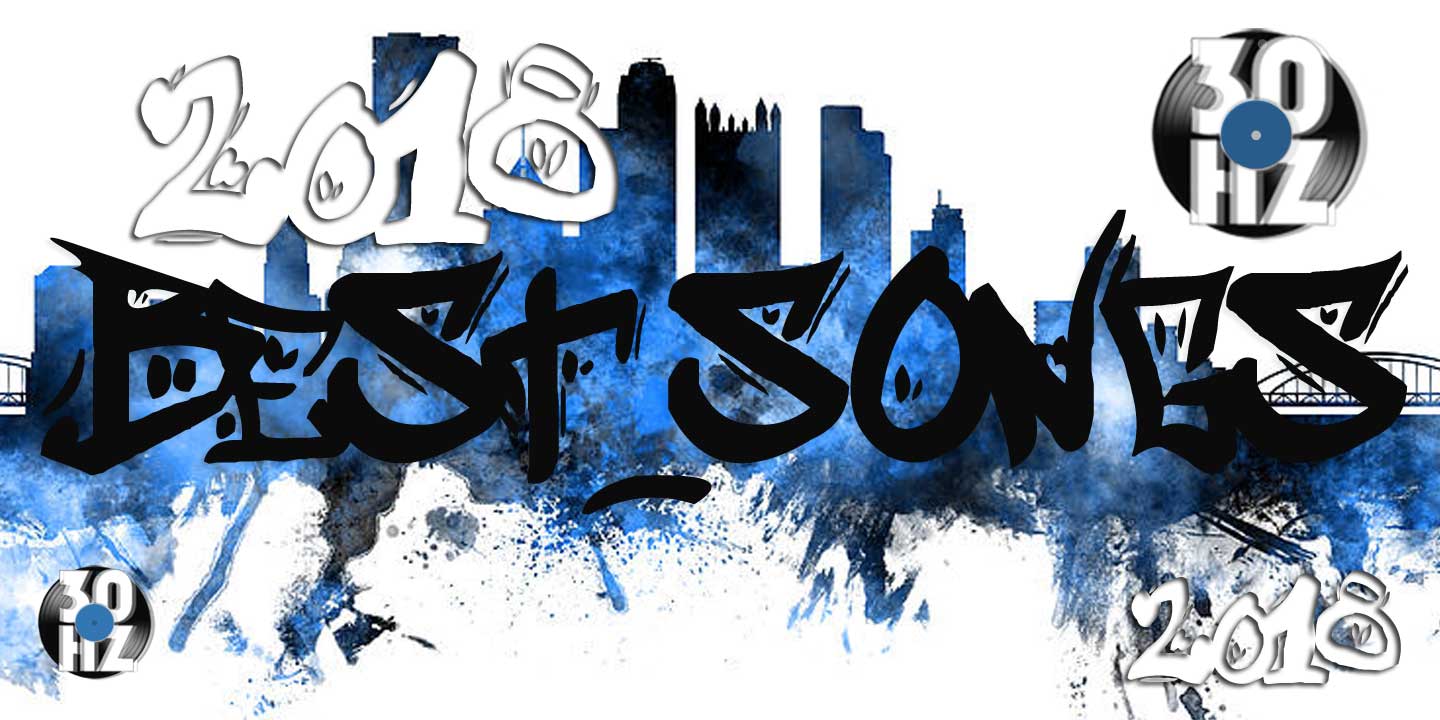 101. "Falling Into Me" – Let's Eat Grandma
100. "Mice" – Billie Marten
99. "Birds" – The Shacks
98. "How Can I Love You" – Yellow Days
97. "True to You" – Deep Cuts
96. "We Appreciate Power" Grimes (feat. HANA)
95. "Anthem (To Human Justice)" – Logan Richarson
94. "Make Me Feel" – Janelle Monáe
93. "New Birth in New England" – Phosphorescent
92. "Foundation" – Public Practice
91. "The Bug Collector" – Haley Heynerickx
90. "Once In My Life" – The Decemberists
89. "Thread" – David Bazan & Kevin Devine
88. "The Walker" – Christine and the Queens
87. "Wild Blue Wind" – Erin Rae
86. "A Little Dive Bar in Dahlonega" – Ashley McBryde
85. "Everybody Wants to Be Famous" – Superorganism
84. "Bad Bad News" – Leon Bridges
83. "My Friend the Forest" – Nils Frahm
82. "Nearer My God" – Foxing
81. "Honeymooning" – Holy Motors
80. "It's Alright" – Slow and Steady
79. "Lemon Glow" Beach House
78. "Meateater" – ALASKALASKA
77. "Tokyo Bay" – Nick Lowe
76. "Suspirium" – Thom Yorke
75. "better alone" – Lykke Li
74. "Straight Shot" – DeVotchKa
73. "Fireworks" – First Aid Kit
72. "MJ" – Now, Now
71. "Paper Trails" – Celebration
70. "Scream Whole" – Methyl Ethyl
69. "Egyptian Luvr" – Rejjie Snow (feat. Aminé and Dana Williams)
68. "You're So Cool" – Jonathan Bree
67. "Sure" – Hatchie
66. "Believe" – Amen Dunes
65. "Best Friend" – Belle & Sebastian
64. "In a River" – Rostam
63. "6&5" – Jesse Marchant
62. "Me and Michael" – MGMT
61. "Over and Over and Over" – Jack White
60. "Taste" – Rhye
59. "The Storm Won't Come" – Richard Thompson
58. "Pristine" – Snail Mail
57. "Pearl Harbor (Remix)" – Wu-Tang Clan (feat. Mathematics, Pharoahe Monch, Sean Price, Tek)
56. "Jeannie Becomes a Mom" – Caroline Rose
55. "4Ever" – Clairo
54. "Everybody's Coming to My House" – David Byrne
53. "Blue Girl" = Chromatics
52. "Nobody" – Mitski
51. "Don't You Know" -Durand Jones & The Indications
50. "Your Dog" – Soccer Mommy
49. "Semicircle Song" – The Go! Team
48. "Welcome to the Milk Disco" – Milk Disco
47. "Gold Rush" – Death Cab for Cutie
46. "Powder Blue / Cascine Park" – Yumi Zouma
45. "Don" – Ocean Wisdom
44. "Space Cowboy" – Kacey Musgraves
43. "List of Demands" – The Kills
42. "Far Behind You" – Lyla Foy (feat. Jonathan Donahue)
41. "Fallingwater" & "Light On" – Maggie Rogers
40. "Saturdays" – Twin Shadow (feat. HAIM)
39. "Modafinil Blues" – Matthew Dear
38. "This is America" – Childish Gambino
37. "Rosebud" – U.S. Girls
36. "Sense of Discovery" – Simple Minds
35. "Know My Name" – Das Body
34. "Jeannie Becomes a Mom" – Caroline Rose
33. "Late to the Fight" – LUMP
32. "Jeep Cherokee Laredo" – The War and Treaty
31. "Oh No, Bye Bye" – Sunflower Bean
30. "Confirmation" – Westerman
29. "Give Up" – I See Rivers
28. "How Simple" – Hop Along
27. "Can't Do Better" – Kim Petras
26. "Honey" – Robyn
And now for my Top 25 portion of The Best Songs of 2018. Because I'm becoming more of a realist in my old age, I now recognize that nobody's going to read 100 blurbs (we're very busy Internet surfers). Instead of half-assing 100 blurbs, I'm only half-assing 25. You're welcome. 
"Heaven/Hell" – CHVRCHES (from the Hansa Sessions)
Just another song on CHVRCHES solid 2018 LP Love is Dead soared on this acoustic version with a blast of strings and stripped down vocals. It's an entirely new song. Go ahead. Close your eyes, throw your head back and sing along. #NoJudgment
"Twanguero" – Electric Sunset
The search for new surf guitar artists usually proves futile. Spain's Diego Garcia paid back that investment tenfold.
"Formless and New" – Rubblebucket
Psychedelic arty dream-poppers took the same old same old and added big beats, brass and pitchy synth to make something familiar but f#cking fresh as hell.
"Emily" – Clean Cut Kid
Easily the best cut from Fleetwood Mac in 2018.
"Eva" – HAERTS
Epic dream-pop in four movements.
"Roll (Burbank Funk) – The Internet
Irresistible California funk. Lush instrumentation, groovy bassline, and honey-dripped vocals.
"I'll Make You Sorry" – Screaming Females
Punk-lite vets peak with their seventh record? Not saying they did, just saying it's an argument you could make that wouldn't be weird. Marissa Paternoster has the best name and warble in the business.
"Wide Awake" – Parquet Courts
Indie-rock Junkaroo.
"Peach" – Broods
Trippy, electro-pop from New Zealand has pinpointed your pleasure center with dreamy vocals over block-rocking beats.
"Short Court Style" – Natalie Prass
June Christy + Booker T. = "Short Court Style"
"Boss" – Little Simz
I haven't been this enamored with a female rapper since Ice Cube gave the world Yo Yo in 1991. The rolling bassline will make you believe that you've got moves, too.
"Letting Go" – Wild Nothing
Wild Nothing's sound perfectly distilled into one individual song. They'll never be a more Wild Nothing song than the jangly, melancholic "Letting Go".
"Strange Embrace" – Kitten
This poppy, hook-laden confection makes me purr.
"Night Shift" – Lucy Dacus
Swallow-your-soul storytelling with beautiful, tortured musicality. If you don't know the name Lucy Dacus, you should get acquainted. Immediately.
"Future Me Hates Me" – The Beths
Riot grrls had a strong showing on the countdown because more so than any other 2018 microgenre the ladies recognized the power of a well placed guitar riff and a hooky chorus.
"Over the Midnight" – Jonathan Wilson
The first song added to my 2018 Hits List survived the gauntlet to earn a spot in the Top 10. Lush soundscape with Cat Stevens lyrical stylings.
"She Remembers Everything" – Roseanne Cash, Sam Phillips
Haunting strings and hooky, soul churning lyricism.
"Me and My Dog" – boygenius (Julien Baker, Phoebe Bridgers, Lucy Dacus)
If you would have said to me, "Jay, I charge you with creating the ultimate female singer-songwriter supergroup," I would have chosen Julien Baker, Phoebe Bridgers and Lucy Dacus. Now that you mention it, I would have added Maggie Rogers, too, but who am I to quibble?
"Not Tonight" – Ten Fé
London duo's irresistible candy-coated alt-rock. A Khan-worthy ear worm.
"May Your Kindness Remain" – Courtney Marie Andrews
Repeated refrains or song titles can become grinding and pretentious — or beautiful and meditative.
"Four Out of Five" – Arctic Monkeys
Until now I'd always lost the Monkeys' lyricism among the bombast. Clever twists of phrase and irony have never been more lounge lizardy.
"Driving" – Grouper
I am a child
It is a gift that my mother gave me
Watching the pavement
Stretch out and fade
You gave me
Along the highway
They look to see
The nature of the crash
To see the body
And it is time
We're on our way
I wonder
Whether you realize
How much I love you
Today, the land
Is slightly wider than the sky
And we are driving
Oh, life
Life in the tunnel
Made of the sun frame
"Helpless" – The Regrettes
Hamiltonian cover refashioned for hooky riot grrrlllllls with perfect pop sensibilities.
"Graffiti" – CHVRCHES
I won't apologize for my Lauren Mayberry obsession — I stand by my assertion that this is some of her best songwriting.
"Love It If We Made It" – The 1975
I dismissed this song after first listen, but it's off-kilter backdoor not-a-pop-song pop qualities wore me down until I couldn't deny this band's emerging greatness any longer. This is my best song of all the best songs of 2018 at this very moment. Check back tomorrow.
Previous 'Best Of" Song Lists:
Best Songs of 2017
Best Songs of 2016
Best Songs of 2015
Best Songs of 2014
Best Songs of 2013
Best Songs of 2012
Best Songs of 2011