Between a glut of paying gigs, vacation, and holidays I've managed to stretch Hooptober into the Christmas season. That's a first. Nobody's reading because we've all moved on to the traditional "Die Hard is/isn't a Christmas Movie" debate. That's fine, too. I made a commitment to watch and review 31+ Horror Movies for the month of October. I've watched them all. Now here are the remaining reviews, told in hurried, one-paragraph fashion to satisfy your ho-ho-horror cravings.
#19. The Mummy (1932) – Karl Freund
Karl Freund's wrangles light and shadow like he's applying it with a paint brush. The love story that traverses multiple lifetimes gives this one its dramatic weight and Karloff's undead love monster his humanizing baggage. I'd recommend The Mummy in any master class about using cinematography to cure all narrative ills.
#20. The Bride of Frankenstein (1935) – James Whale
I've always thought that the people who don't appreciate James Whale's The Bride of Frankenstein don't see the humor in The Bride of Frankenstein. It's a tale skillfully told — but it's Whale's ability to comment on the genre from within (something he did more overtly in The Old Dark House) that makes the film such a brisk romp.
#21. The Mummy's Hand (1940) – Christy Cabanne
Universal's Mummy series loved to cut narrative corners. This constant familiarity allows the viewer to embrace each film's eccentricities or dismiss them entirely as hack regurgitations without creative advancement. The Mummy's Hand borrows the setup and footage from Freund's 1932 effort but adds enough padding to make it feel fresh (enough). Easy to enjoy. Easy to forget tomorrow.
#22. Captive Wild Woman (1943) – Edward Dmytryk
The Universal well had clearly run dry when they conjured this pathetic excuse to transform another human into another animal. But but but this time it's a woman! The horror elements become secondary concerns. The movie spends an inordinate amount of time engaging in animal cruelty and disturbing racial connotations. If there were something here more worth watching we'd have something to discuss.
#23. The Living Idol (1957) – Albert Lewin, Rene Cardona
Gorgeous-looking Aztecploitation, oozing in Technicolor and wide-format location cinematography, but lacking anything in the story department. A woman may or may not be the reincarnation of an Aztec princess and jaguars may or may not be coming for her. This loose remake of Lewton's Cat People gives us just enough to keep watching but not enough to distract us from the backdrop. Co-directed by the Cuban-born Rene Cardona — a central figure in the Golden Age of Mexican Cinema.
#24. Four Flies on Grey Velvet (1971) – Dario Argento
One of the few prime-era Argento holdouts on my viewing resume. Some wonderful imagery, visually inventive flourishes and a memorable Ennio Morricone score undermined by a predictable twist. I'm itching for another viewing despite its flaws.
#25. All the Colors of the Dark (1972) – Sergio Martino
Sergio Martino directed perhaps my favorite mindf#ck giallo Your Vice is a Locked Room and Only I Have the Key (also starring the perpetually vexing Edwige Fenech). I picked this up during the last Severin Black Friday sale and I've been waiting all year (for no especially good reason) to watch it during Hooptober 2019. Perpetually needy and terrified Edwige finds herself stuck in a mental state between fact and fiction, unable to escape the grasp of a Satanic rape cult. Don't attempt to strangle narrative from this psychosexual satanic panic film told through the perspective of an unreliable narrator. Just let the misdirection wash over you like Bruno Nicolai's score.
#26. Leptirica (1973) –

?o

r?e Kadijevi?
Just another made-for-TV Serbian folk horror film. If you've seen one, you've seen them all. A vampire-like menace attacks people in and around an old mill. No explanations given. Awkward light humor and a haunting and singular score. A few truly memorable images give Leptirica aka The She-Butterfly her bite.
#27. A Nightmare on Elm Street 4: The Dream Master (1988) – Renny Harlin
I feel like "perfectly capable" is a solid recommendation for any horror sequel with a number greater than or equal to 4. In this entry Freddy Krueger becomes a nightmare wielding clown, but still retains the menace that made the original such an effective horror movie. What The Dream Master lacks in thrills, it makes up for with inventive kills and set pieces. Lisa Wilcox gives us an engaging protagonist that helps smooth over some of the hackneyed plotting.
#28. Vampire's Kiss (1989) – Robert Bierman
What the hell is Nic Cage doing? What is this accent? What is this laugh? It's almost as bizarre as his creative choices in Peggy Sue Got Married — but that was an otherwise straight movie. This? Bizarre performance, perversely entertaining movie. Crazy Nic eating cockroaches and chasing pigeons with fake vampire teeth. The movie plays so dumb you don't see final narrative shift coming. Vampire's Kiss gets "smart" — and works because Cage's highwire histrionics provides the necessary smoke and mirrors.
#29. A Nightmare on Elm Street 5: The Dream Child (1989) – Stephen Hopkins
Hopkins gives this entry some flair, but the series is running on fumes. The film's set pieces have become completely disengaged. Feel free to admire the creativity, but these sequences fail to contribute horror or forward momentum. It all feels watchable but perfunctory.
#30. The Church (1989) – Michele Soavi
Overdue rewatch of a Michele Soavi classic and unofficial third act of Lamberto Bava's Demons. Demon sex, possession, creepy gothic imagery, Keith Emerson score, young Asia Argento, and choice bits of goo. Always recommended.
#31. Popcorn (1991) – Mark Herrier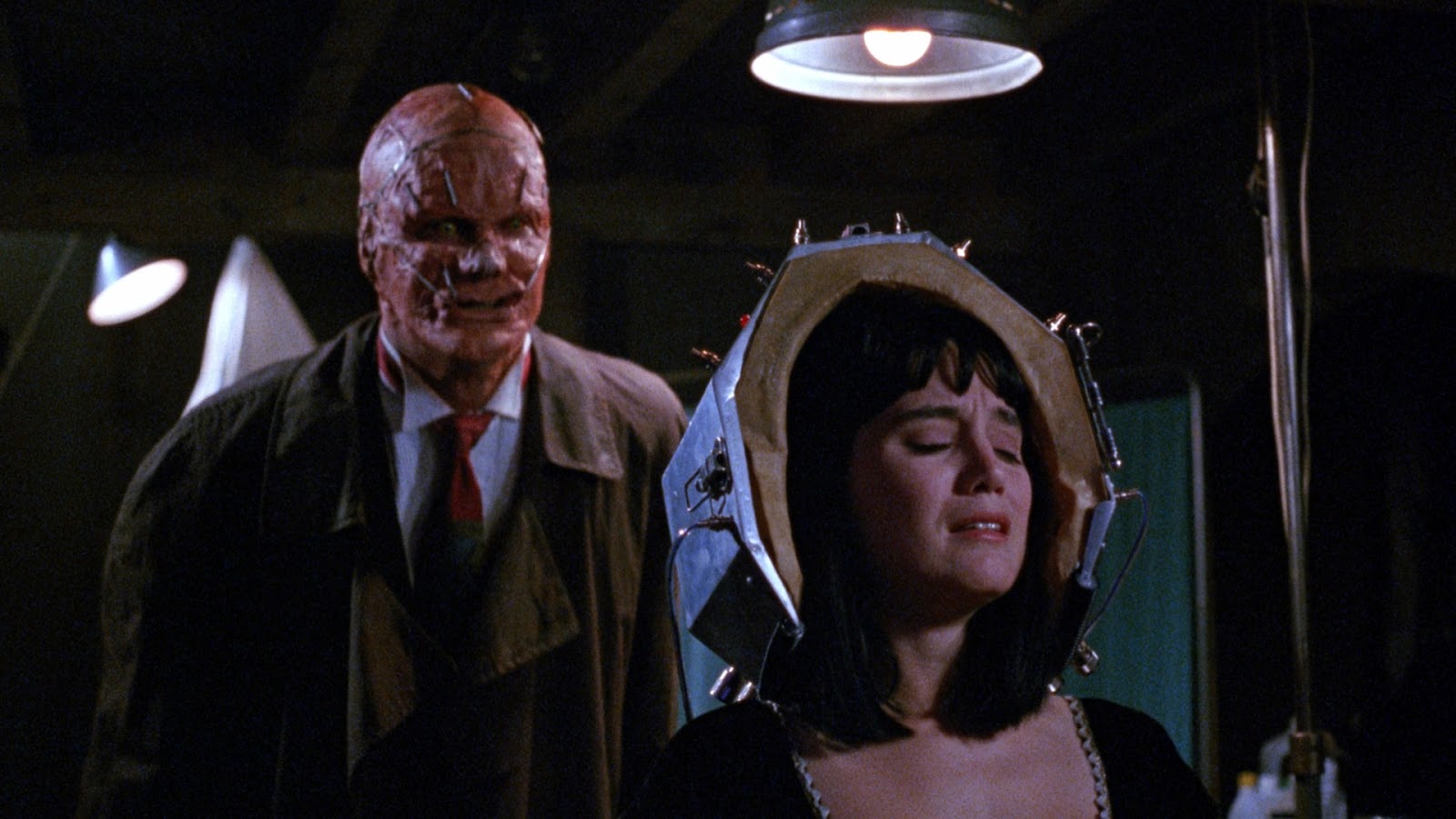 Would-be cult classic riffs on the same gag for 90 minutes. The homage to William Castle stunts makes for fun viewing, but it too-often wanders into (uninspired) traditional slasher territory. The best bits take place in the films within the film that make up the all-night horror marathon. As they were shot by the film's original director, Alan Ormsby, I can't help but think he might have had a better grasp of the offbeat tone and pacing. That said, Herrier shepherded the film to completion or maybe it wouldn't have existed at all.
#32. Innocent Blood (1992) – John Landis
My favorite part of Innocent Blood takes place when a car chase enters the Ft. Pitt tunnel but comes out on the south side of the Liberty. Robert Loggia sucking the scenery of blood as a vampire gangster makes this a winner.
#33. Behind the Mask: The Rise of Leslie Vernon (2006) – Scott Glosserman
I liked Cabin in the Woods, but this meta-horror movie actually dissects the genre *and* manages to sustain a consistently unsettling tone before unleashing its own effective slasher film. It's about time I got around to this one considering The Cinemonster and I discussed this on the Cinema Shame podcast two years ago.
#34. Horror Noire (2019) – Xavier Burgin
Straightforward, talking-heads doc about the Black American connections to the horror genre (and Hollywood as a whole). Essential viewing for horror fans — but I'm not sure it captivates the average moviewatcher without a pre-existing love for the genre.
2019 @CinemaShame / #Hooptober FINAL:
#1. Shocker (1989) // #2. Etoile (1989) // #3. The Phantom of the Opera (1989) // #4. Blacula (1972) // #5. Scream Blacula Scream (1973) // #6. Jaws: The Revenge (1987) // #7. Blood Bath (1966) // #8. Friday the 13th Part V (1985) // #9. Friday the 13th Part VI (1986) // #10. Friday the 13th Part VII (1988) // #11. Dracula: Prince of Darkness (1966) // #12. Pet Sematary (1989) // #13. Eaten Alive (1976) // #14. Friday the 13th Part VIII (1989) // #15. A Bucket of Blood (1959) // #16. The Creature from the Black Lagoon (1954) // #17. Revenge of the Creature (1955) // #18. The Creature Walks Among Us // #19. The Mummy (1932) // #20. The Bride of Frankenstein (1935) // #21. The Mummy's Hand (1940) // #22. Captive Wild Woman (1943) // #23. The Living Idol (1957) // #24. Four Flies on Grey Velvet (1971) // #25. All the Colors of the Dark (1973) // #26. Leptirica // #27. A Nightmare on Elm Street 4: The Dream Master // #28. Vampire's Kiss (1989) // #29. A Nightmare on Elm Street 5: The Dream Child // #30. The Church (1989) // #31. Popcorn (1991) // #32. Innocent Blood (1992) // #33. Behind the Mask: The Rise of Leslie Vernon (2006) // #34. Horror Noire (2019)