Cinema Shame: Heaven Can Wait
A belated entry for the April Cinema Shame prompt — movies from the TCM Film Festival. 
It's inevitable that TCM Film Festival attendees miss movies they want to see. With so much programming going on at once, it's impossible to see everything. It's the beautiful agony of the TCMFF. During this past festival in April of 2018, I was unable to view a little movie starring Warren Beatty called Heaven Can Wait (1978), a film I've long intended to watch and often just confused with Terence Malick's Days of Heaven (1978). While I was still in L.A. for the festival, I placed Warren Beatty and Buck Henry's Heaven Can Wait at the top of my Netflix DVD queue.
Let's start with expectations. Nine Academy Award nominations causes certain assumptions — for better and worse. I knew that Harry Segall's play of the same name served as the source material for both this and Here Comes Mr. Jordan (1941). So, a super Oscar-bait-y version of a beloved, offbeat 1940's comedy, likely without the comedy. Because comedies don't receive Academy Award nominations.
I forgot to take into consideration that this was still the 1970's, and in the 1970's anything could happen in terms of creative possibilities and critical reception. Heaven Can Wait actually emphasizes the screwball nature of the production.
An argument could be made that this 1978 version feels more daffy than the original adaptation. Due in no small part to daffy Warren Beatty, playing loose and care-free with his character. Let this be a reminder that daffy-mode Warren Beatty was a gifted comic actor and we should do a better job of appreciating his gifts in 2018 and forevermore.
Beatty plays Joe Pendleton, a veteran quarterback and the surprise leader of a Los Angeles Rams team destined for the Super Bowl. One fateful morning, Joe's motorcycle meets a semi-truck, and an overzealous guardian angel (Buck Henry) plucks Joe from his body before the flatline.
Pendleton arrives in the afterlife demanding a second opinion because goddammit he's got a Super Bowl to win. Upon further review by Mr. Jordan (James Mason), Joe had another 40 years to live. The trouble? His body's already been cremated. Major clerical faux pas.
Mr. Jordan arranges a workaround. Joe's given another chance to live by taking control of the body of a man already destined for an early demise. After declining a number of options, he ultimately accepts the rather ship-shape body of millionaire industrialist Leo Farnsworth who'd just been poisoned by his wife Julia (Dyan Cannon) and her lover/his secretary Tony (Charles Grodin).
The narrative remains largely similar to Here Comes Mr. Jordan with a few important tweaks. The character of Joe Pendleton has been made an American football player instead of a boxer and small aircraft pilot. This shift amplifies the absurdity by placing this industrialist/millionaire turned NFL owner and eccentric professional athlete within a multi-ethnic team setting.
Heaven Can Wait, as a result, creates a number of forces opposing Joe's attempt to once again become an NFL quarterback. There's racial and class tension playing out in the background of Joe Pendleton's comeback as Leo Farnsworth. One can even sense whiffs of conversations that would later take center stage in Warren Beatty's Bulworth (1998).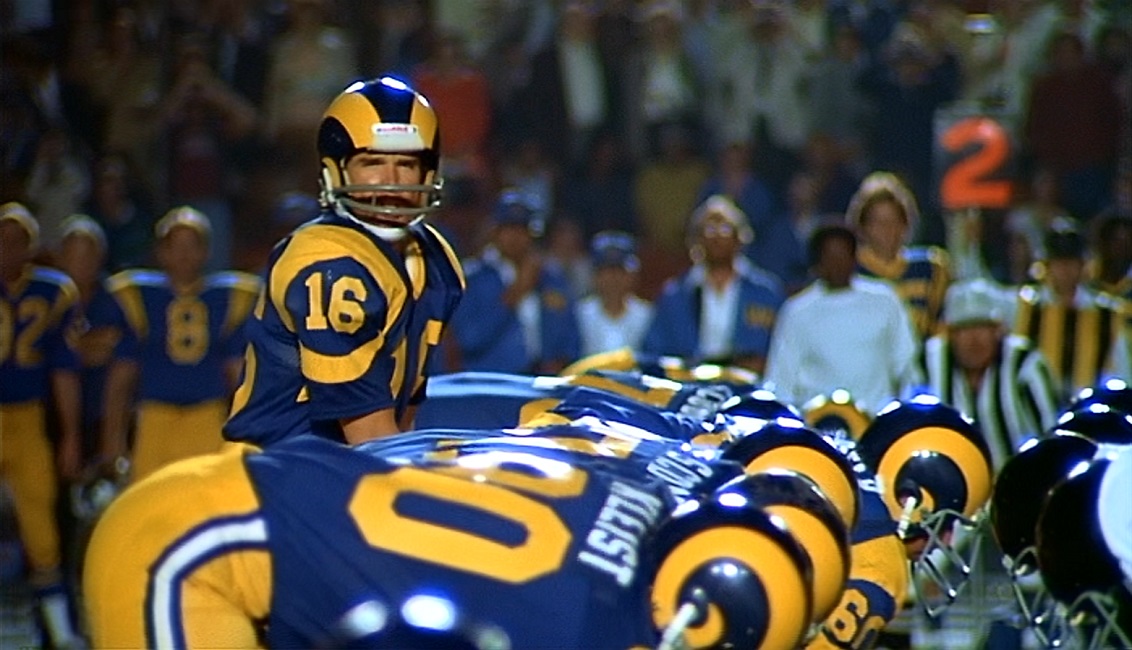 The supporting cast further enhances the screwball touches. Dyan Cannon and Charles Grodin carry on like a pair of whirling dervishes in the background of Joe's/Leo's story. While Warren Beatty plays whimsical (almost reminiscent of Jimmy Stewart in Harvey), Cannon and Grodin go full screwball manic as they mug and flummox through a parallel narrative in which the certain dead come back to life. The unusual love triangle makes for an especially memorable scene where Joe/Leo barges in on some post-coital adultery to discuss business. Tony hides behind the curtain, and Beatty flies through his agenda without missing a beat.
It's the ever-steady presence of Jack Warden as the Rams' trainer that serves as the perspective of the audience and grounds the fantastical film in some sense of realism. As the role of skeptic and confidant (once he's been convinced of Joe's return as Leo) Warden acts as a counterbalance to the film's whimsy — his deft ability to exist simultaneously in a screwball comedy and a melodrama reflects our skepticism and ultimate desire to accept the high-concept premise.
Heaven Can Wait becomes something else as it explores the romance between Joe/Leo and Julie Christie's activist Betty Logan. I'm not certain the shift in tone benefits the rest of the film, but it provides essential dramatic conflict during the final act of the film as the screwball comedy shifts toward a lite romantic melodrama.
Christie plays her character with dire straightness. So too does James Mason, but his Mr. Jordan has tongue firmly in cheek. When the dramatic incident occurs that rips Joe out of his temporary body and into another, it's his burgeoning relationship with Betty that provides the conflict to create tension in these final scenes.
In this instance Here Comes Mr. Jordan succeeds in establishing the relationship as an organic driving force within the narrative — the weight of which doesn't quite manifest within Heaven Can Wait. At least not until the final few scenes require that extra gravity. Otherwise the finales play out in relatively parallel facsimiles — with the nature of the sporting events providing some eccentricities of character.
Heaven Can Wait's Shame! Verdict
Despite these final act quibbles, Heaven Can Wait rewarded my impromptu Shame! confession. (It was not an original inclusion on the 2018 Shame Statement.) The heavily nominated film exceeded my expectations — and I can finally stop lumping it into a confused amalgam of unwatched movies with "Heaven" in the title.
I have to wonder if that's an unconscious deterrent. Days of Heaven (1978). Far from Heaven (2002). Heaven's Gate (1980). All unwatched. On the other hand I believe in watching Pennies from Heaven (1980) and My Blue Heaven (1990) at least once a year. Maybe that makes me pious after all. Or at the very least a big Steve Martin fan.
I'm also somewhat inclined to learn how to play the saxophone poorly. It's one hell of a character-defining detail, supplying both whimsy and beautiful, tone-deaf musicality. These details are comedic gold.
Heaven Can Wait is unfortunately only available on a passable Paramount DVD release. The film seems ripe for a Criterion Blu-ray. Paramount has licensed a number of films to them in the past. I'd love to dig a little deeper into the production of this film considering it's roots and remake status.
Disclaimer: I earn rewards from DVD.Netflix.com, which has thousands of movies to choose from, many that you won't find on streaming services. I do this because having physical media is important. The notion of "everything available all the time" with streaming is a myth. We are our own best curators. #PhysicalMedia #DVDNation #ad
2018 Shame Statement Update:
(Bold/linked denotes watched)
Five Easy Pieces
Lifeboat
Stop Making Sense
The Black Pirate
Henry: Portrait of a Serial Killer
Paris, Texas
Wuthering Heights
Paper Moon
Sunrise
The Conversation
Victor/Victoria
Once Upon a Time in the West
Ikiru
Help!
Heaven Can Wait
Cinema Shame Monthly Prompts:
January Prompt: Shame Statement
February Prompt: An American In Paris
March Prompt: The Crimson Pirate
April Prompt: Once Upon a Time in the West / Heaven Can Wait
May Prompt: Musicals!