Well, at least Snyder will get his name in the Guinness book of records. I mean, causing two nuclear explosions in one afternoon has to be some sort of record.
DeepStar Six (1989)
DeepStar Six has the distinct honor of being the first "terror from the deep" film to reach the 1989 box office — making Leviathan, The Evil Below, The Rift and The Abyss nothing more than simpleminded pretenders to the throne… of first into the water. DeepStar Six is the jerk kid that yells, "Last one in the water's a rotten egg!" as he's already jumping into the lake.
In its rush to grace theater screens, DeepStar Six forgot a few key elements of narrative film. Namely script… and characters… and originality. The dialogue's trash, and producer/director Sean S. Cunningham (Friday the 13th, House) cast so many of "that guy" and "that girl" in supporting roles that he forgot to cast charismatic leads. While amiable and easy on the eyes, Greg Evigan and Nancy Everhard would be a good choice to carry a CBS drama that's cancelled after 13 episodes.
DeepStar Six arrived early to the party, but that doesn't do anyone any favors in 2019. There would have been a splash of novelty in January of 1989 — but from our perspective, Cunningham's underwater thriller feels like bilious regurgitation.
The DeepStar Six Story (Stop Me if You've Heard This Before)
An experimental U.S. Navy deep sea laboratory surveys the ocean shelf, researching the potential for underwater colonization methods and installing a nuclear missile storage platform. The 11 crew members have one week left on their tour of duty when they discover a massive system of caverns beneath the planned site. Crotchety project manager (Marius Weyers) wants the cavern detonated and filled in order to proceed on schedule. Wide-eyed scientist (Nia Peeples) wants to study the potentially untouched ecosystem inside.
The detonation causes a massive fissure in the ocean floor, unleashing a beast from the deep who consumes and torments the DeepStar Six residents (notable among them: Taurean Blacque, Miguel Ferrer, Matt McCoy, Cindy Pickett).
And Yet, A Reason to Watch DeepStar Six
Aside from playing "Let's Remember From Where We Know That Actor Without Using Our Phones," DeepStar Six gives movie fans reason to queue it up.
If we write off the film's turpitudinous screenplay (which does indeed torment unnecessarily) as a sunk cost, practical effects fans will enjoy the budget-conscious model work and creature effects. Cunningham attempted to spin his success with Friday the 13th into a similarly-styled underwater slasher film. Low budget thrills and water-based filming, however, generally make unpleasant bedfellows. The suspense elements just don't work — largely because we're not given reason to care about these people.
If viewers stick around for the film's finale, however, they'll be treated to a course in the budget-conscious deployment of a practical effects monster. (The creature itself looks like an underwater version of the Graboids from Tremors.)
In a masterful thriller like Jaws, Spielberg manages to hide the shark as much as possible while achieving maximum bang for a relatively minor buck. Even the most cursory search uncovers stories about how Spielberg maintained the illusion of reality despite repeated shark failures. DeepStar Six, due to its lack of mastery, telegraphs its shortcomings. Notable absence and notable success show like neon seams binding the special effects to the rest of the film.
DeepStar Six, A Verdict
There's an old mantra that you learn more about the creative arts by studying bad examples than you do good ones. I believe this to be 100% true, but you have to study the good ones first to recognize the how/when something fails. Jaws works so beautifully as suspense that the film never severs the viewer connection to the screen. You'll never know what didn't quite work.
No punches pulled, DeepStar Six doesn't work. It doesn't have the actors to sell the illusion and it doesn't have the money to distract from the acting with glorious effects. It does, however, showcase how Cunningham went about hiding the creature until absolutely necessary. He used sound and shadow and restraint to maximize an $8million budget, and I know some big budget filmmakers who could take a few of these tips to heart. A few of DeepStar Six's dollars should have been reallocated to script development. That would have been the wisest of all uses.
DeepStar Six is available to view on Amazon Prime Streaming.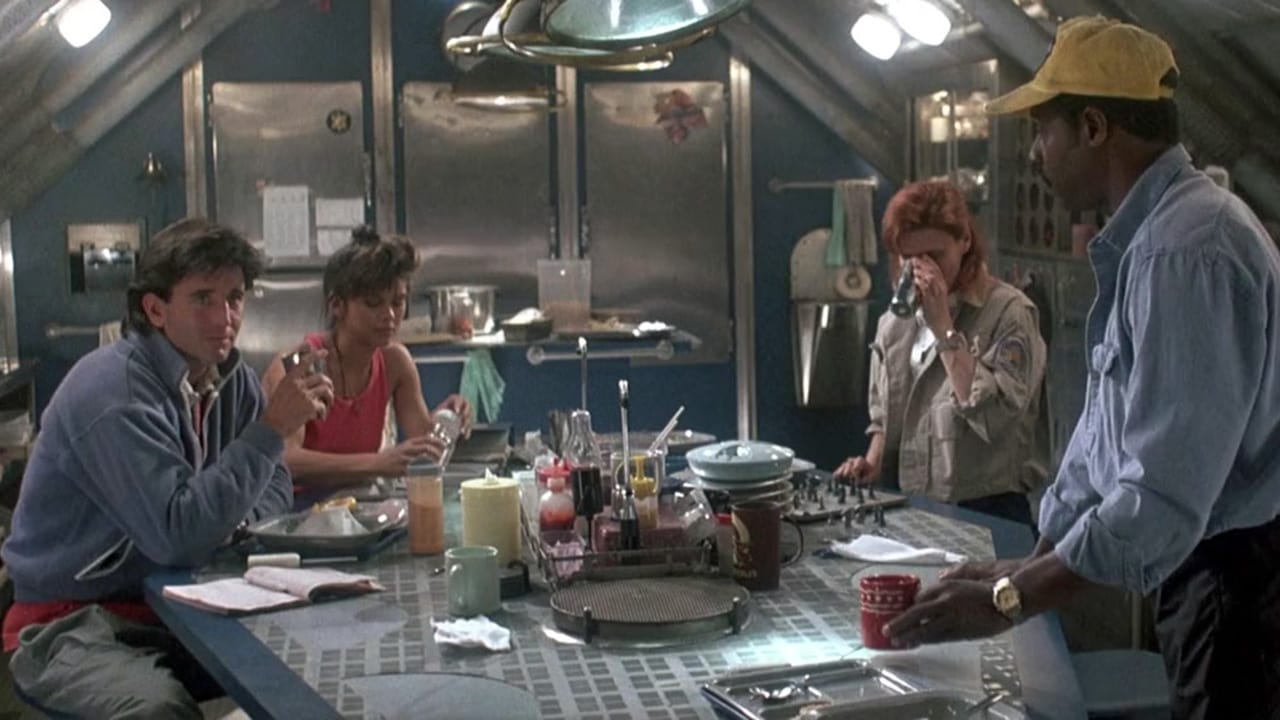 James David Patrick is a writer. He's written just about everything at some point or another. Add whatever this is to that list. Follow his blog at www.thirtyhertzrumble.com and find him on Twitter, Instagram, and Facebook.