I came across this blogathon via Twitter and #TCMFF acquaintance Aurora (aka @CitizenScreen) on her Once Upon a Screen classic film blog. It seemed like a fun endeavor to put my love of film into pictures. The concept was first put into motion by film enthusiast Margaret Perry as a social media experiment… as part of her Cultural Heritage Management course at the University of York. She's dubbed this a "Flash Blogathon" (and that sounds very exciting!) with the purpose of connecting heritages all over the world. Naturally, the classic film community loves such a challenge, and Margaret has tailored a set of requirements just for us. She's outlined the details in her 'flash blogathon' announcement post, but basically we're here to participate in a scavenger hunt of our own cool film stuff. Head over to Margaret's page to check the guidelines and come up with your own #CurateMyLife entry.
First, however, I've got a few things to share. I stuck mostly to Margaret's categories… but perhaps enlarged the notion of what constitutes a classic film. If you've read this bl-g at all, you'll know I'm kinda stuck in 1985. So now let's start exploring how classic and classic-ish film plays a major role in my everyday life.
30/007Hz #CurateMyLife – A Celebration of Stuff
1. DVD/Blu-ray Collection
Talk about starting this scavenger hunt with a bang. I'm a compulsive collector. I'm a student of film. I love libraries. I love being surrounded by libraries of books, DVDs, records. I collect the films I love. I collect the films that have affected me personally through my collegiate film education and beyond. That said, my DVD/Blu-ray collection is threatening sentience. I don't believe in owning digital copies (unless that version is the best version of the film available). Physical media plays an important role in tactile appreciation. Owning a physical copy of a movie is a commitment of space. It means something. I won't go into my specific ideas about the meaning of physical media here, but I've published a piece on why vinyl records are important that you should read if you care to indulge my eccentricities further.
---
2. VHS Collection
I don't even have a working VCR anymore, but I hold onto the VHS tapes from movies that have never appeared on DVD or were cut significantly for their DVD release (I'm looking at you, Cat Chaser). I even acquire a new one every now an again when I find an oddity at a used book/media store. One of these days I'll procure another VHS deck. Hopefully a top loader… because who doesn't love those old top loaders!
---
2b. Laserdisc Collection
Laserdiscs weren't part of the original category list, but we can't forget DVDs chunky ancestor. I've sold my Laserdisc collection off in chunks over the years. I had about 40 laserdiscs after college, but when I moved into smaller and smaller apartments (Boston was extremely discourteous to my media collection) the collection dwindled to this handful. The hand belongs to my 3yo daughter who demanded to watch some Road Runner cartoons upon seeing these laserdiscs for the first time.
Not pictured here is the Star Wars Trilogy: The Definitive Collection, which remains at my parents' house because they still have a laserdisc player hooked up for this purpose and this purpose alone. This is a set of the blissfully unaltered original Star Wars films as they were presented in theaters. The best these OT cuts will ever look on home video.
---
3. Favorite DVD/Blu-ray
This one is hard because I cherish different releases for many different reasons. It's almost impossible to compare an individual release with a box set. So let's do both.
I'll start with my favorite individual release:
The Casablanca 70th Anniversary Edition contains a very nice book about the making of Casablanca, a poster, Morocco-styled coasters and a full disc of extras featuring the You Must Remember This: The Warner Bros. Story documentary.
My favorite multi-disc collection should come as no shock to anyone in the history of ever. This baby's got more miles than the grey 1988 Oldsmobile Touring Sedan I drove throughout high school and college. Some of these discs get more play than others, but ya gotta have 'em all. Yes, even Die Another Day.
For the sake of nostalgia, I'll also post a picture of the first DVD I ever purchased:
---
4. Favorite VHS
This tape is also at my parents' house (because they still have a substantial collection of VHS tapes that haven't moved since the late 90's — and I was mostly responsible for that collection as well) and appears in far worse shape than this particular picture. This, of course, is not my copy but a shamelessly stolen image from the Interwebs. Mine is rough around each corner and held together by the glue of nostalgia. I'm not about to call my mom and try to talk her through taking a picture of a VHS tape with her cell phone. And then send it to me. So I copied and pasted an image from VHSCollector.com. 12 seconds.
---
5. Classic Film-related Wall Art
I have many posters scattered about the house. Many others still in storage tubes. I only have so much wall space available to my hobbies. I'd decorate the whole house in classic movie posters and artwork… but alas, the wife disagrees with my design sensibilities. My absolute favorite movie poster is this original Ghostbusters teaser poster, pictured left alongside my Japanese Amelie. Both of which are obscured by my daughters' doll house. So it goes.
---
6. Classic Film-related Household Item
While I could have chosen my Boba Fett barbecue apron and tongs, I'll go with this more classic-y magnet I won for answering classic movie trivia questions on Twitter.
---
7. Classic Film Movie Ticket
I literally saved every ticket from every movie I watched through high school (and wallpapered my room with them), but the only ticket I can find in my house right now is my stub from Hail, Caesar two weeks ago. Scratch that. I found another ticket. People who follow my @007hertzrumble account on Twitter will find this amusing. It goes deeper than just having a Bond ticket, I assure you. If I'd had my wits about me, this ticket would have been rubbished months ago.
---
8. Picture of You and Friends Enjoying a Classic Movie Experience
I'll choose this picture from the 2015 TCM Film Festival because it's a comical selfie fail. In case you were wondering you can't take a selfie in a dark theater because the flash is on the other side of the phone. Duh. Left to right: @MiddParent, me, @fallonthornley, @WillMcKinley… at The Children's Hour if I'm not mistaken. More on this in a minute.
---
9. Picture of Fan Art
I'm not exactly sure whether we're talking about fan art we own but done by someone else or fan art we've done ourselves. I'll go with fan art I've done because I've done my share of Bond doodling for #Bond_age_. I've done a handful of t-shirts and #Bond_age_ Collection DVD Covers and this one is probably my favorite.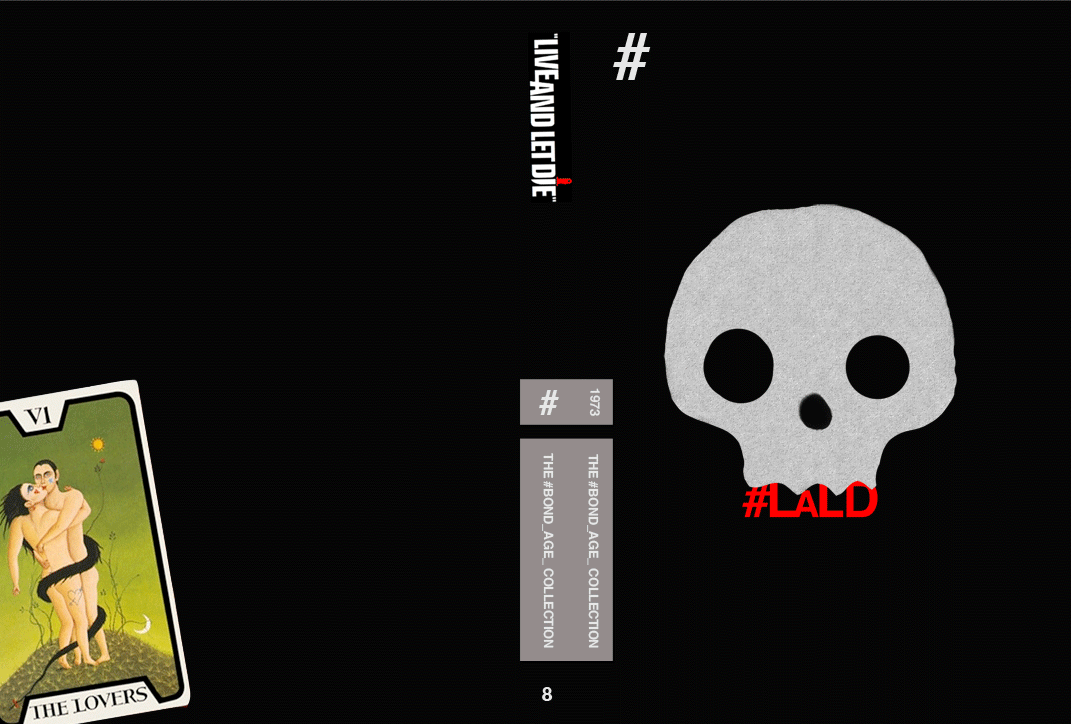 ---
10. Classic Movie-related Souvenir
I've got the limited nick-knacks I brought from #TCMFF15, but that's not much of a souvenir. I'm struggling to think of anything that really fits this category. There's my old junket folders from when I fancied myself a film journalist. Somehow the biography page from the professional tracker that I interviewed for William Friedkin's The Hunted doesn't sound all that interesting. My souvenir then perhaps is just a memory. At the Road to Perdition junket, I had the pleasure of chatting with people like Tom Hanks, Daniel Craig, Sam Mendes, the late great Conrad Hall… but Paul Newman did not to the roundtables or one-on-ones. Paul Newman gave a press conference. I stood in the center of that room enraptured, hanging on every word. And then when the 30 minutes were over, Paul Newman exited through the center of the room with his three handlers. One of those handlers brushed me aside just ahead of Paul. As he did so, Paul glanced at me sideways and shrugged. It was the briefest of acknowledgements, but it was an acknowledgment that I had been in Paul Newman's way. Was he apologizing for his handler's demeanor? Or shrugging that I was such a buffoon for standing there. It doesn't really matter. That shrug is my souvenir. I occupied the same space as Paul Newman.
Oh, but I did also snag an autograph from Tom Hanks on my Road to Perdition press materials. So I do have that.
---
11. Object that Once Belonged to a Classic Film Star
I have a record that once belonged to Ted Nugent, but that probably ranks well below Jon Voight's Le Baron. I'll abstain from this category.
---
12. Picture of Yourself with a Classic Film Star
This might be cheating, but…
---
13. Selfie from TCM Film Festival
This is me holding my #1 ticket for Out of Sight, one of my favorite flicks that I knew wasn't going to get any love at TCMFF because of its relative newness. I still have that ticket. I kept it as a souvenir. I still have that ticket because I ended up seeing The Children's Hour (for the first time and with Shirley MacLaine in attendance) instead of Out of Sight (for the twelfth time).
---
14. Selfie with Robert Osbourne
I can't fake this one. Maybe I'll have my daughter draw a hypothetical.
---
15. Classic Film Book Collection
I'm sure I have some others scattered throughout the house… most notably some of the books about James Bond and Ian Fleming which I keep handy for research purposes. My 3yo daughter also wanted to make sure I had Fawn from the Disney Fairies in that one shot too.
---
16. Favorite Movie Star Biography/Autobiography
…of those I've read this would probably be my favorite. Fellini had been a huge part of my proper cinematic education in college. I considered him a larger-than-life figure, some sort of demigod, but definitely not human. I, Fellini made him human, but no less mystical.
---
17a. Miscellaneous! Vinyl Soundtrack Collection

Below I've taken a shapshot of my most spun soundtrack and the James Bond section of my collection.
17b. Miscellaneous! Thin Man martini glasses, coupe champagne/cocktail glasses
A New York glassware company made these Thin Man-inspired martini glasses (right). I found these for my wife last Christmas but I'm pretty sure I'm putting more mileage on them. I had to order the small coupe glasses from Boston Shaker directly because nobody carries anything but the big ass bourgeois champagne glasses. We're classy in this joint, see? This is the proper size for a cocktail. You drink 'em fast and make more.
17c. Miscellaneous! Movie novelizations
Pay no attention to the Ian Fleming Bond books there. They just ended up on that shelf with a chunk of my movie favorite novelizations.
17d. Miscellaneous! #Bond_age_: The James Bond Social Media Project and the #Bond_age_Pod
I stumbled into this James Bond Social Media Project by accident. An offhand conversation on Twitter with a couple literary minded fellows that took an interest in my opinions about the series. I ended up committing to a series of blog entries and later the live tweets. More than three years later, we're still live tweeting James Bond and spy-related movies and TV shows every Wednesday night. As I started the #Bond_age_ platform, I talked to other live tweet organizations — #DriveInMob, #TCMParty people — about how to go about this business of live twatter. I've met amazing, brilliant, creative, like-minded individuals. I've journeyed across country to meet some of them at TCMFF and I hope to consider them friends for many many years. These hashtags have become part of the way we watch and talk movies. If you ever need to talk about movies, you can always reach out through these aforementioned hashtags… and many others… #BNoirDetour, #WTFWed, #WarBonds, #TrashTue, #Riffotronic, #BMovieManiacs… the community has grown and grown in recent years. We even have our own website for a schedule of all regular live tweets!
And then this live tweet business gave way to the podcast business when people kept asking me when when when will we start putting these thoughts on the air. I think most everyone probably regrets that request now.
Welp. That's #MyCuratedLife in #ClassicMovies and #NotYetClassicMovies.
If you've got some fun things to share… all you need to do is show the ways in which the tentacles of movies have worked their way into your life and control your daily comings and goings. Then share your blog and images across social media by tagging each post with #CurateMyLife and including @curatemylife and @MargaretPerryKH on your posts. Thanks to Aurora at Once Upon a Screen… for posting her #MyCuratedLife so I could read and become inspired to post my own.